Click here to view more upcoming events.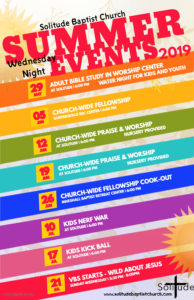 .
Events
May 26, 2019
Age based Bible Study begins at 8:45am Worship Service begins at 10:00am 1st & 3rd Sunday Kids Worship for Grades 1-6 in the Upper Room in the Children's Building
Jun 9, 2019
11:30 am – 12:30 pm
Every Month
The 2nd Sunday of each month we are having Connect Lunch in the Youth Chapel at 11:30am. Anyone interested in attending a lunch to learn more about Solitude and where you may plug in to serve, please see Bro Joey.
Jun 12, 2019
7:30 am – 8:30 am
Every Month
The 2nd Sunday of every month, all men are invited to a breakfast in the Family Life Center at 7:30am.